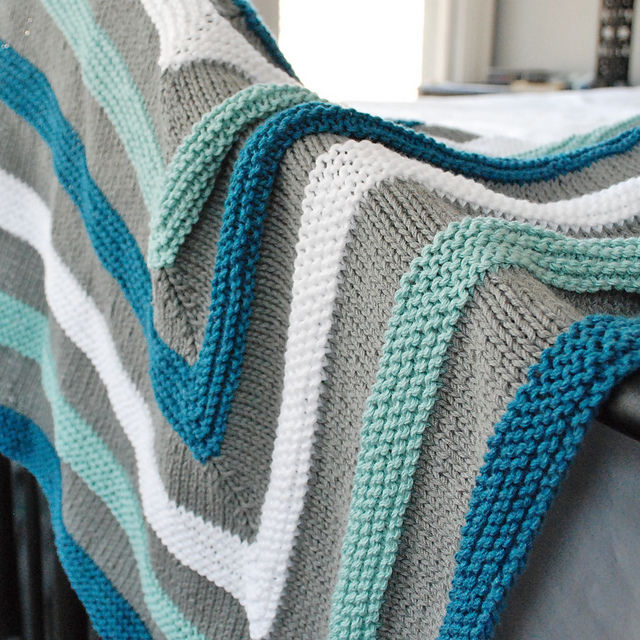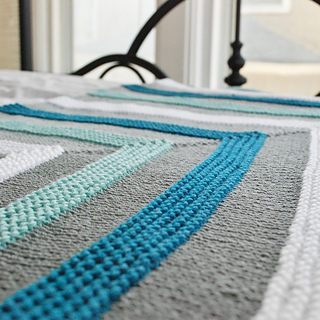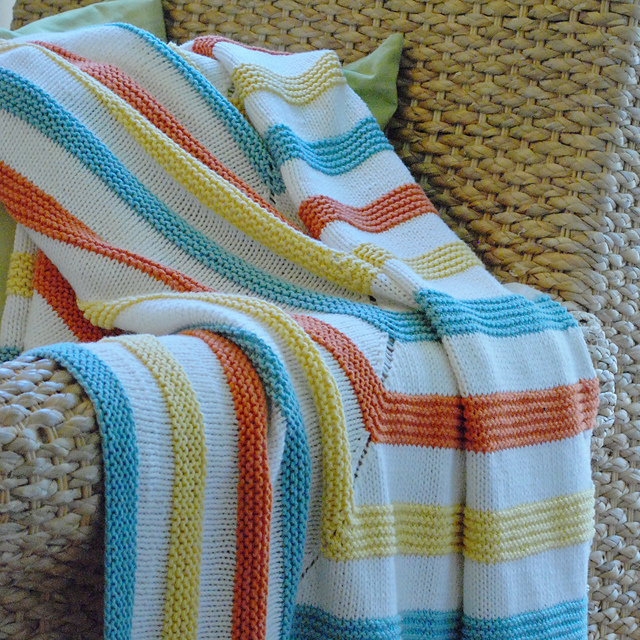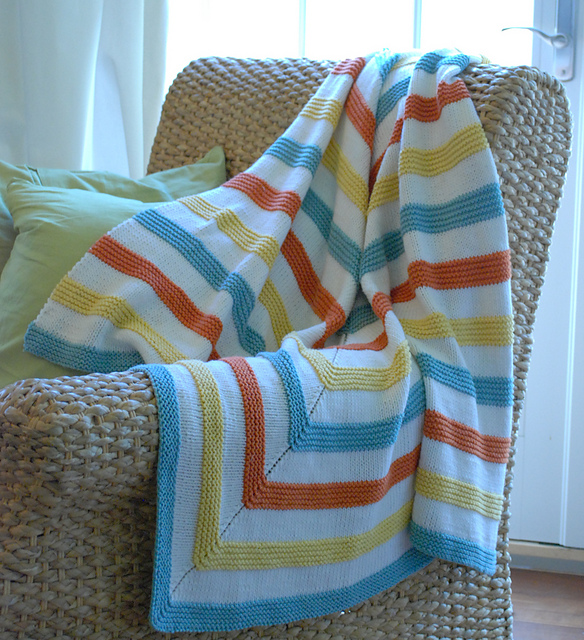 This blanket holds a special place in my heart: it went to school with my son in his preschool years, it is the blanket that we reach for when he isn't feeling well, it travels with us on road trips, and gets tossed down at the park for a picnic. I love it because the design is simple, the yarn is easily washable, and the colors are cheery. I consider this blanket to be the one that a mom or friend knits for a new baby; a blanket that gets used, that is easy to care for, and that will stand up to the use of a toddler.
There are a couple of design choices that I often receive questions about: a finished edging, and whether or not the blanket is a full mitered square or not. As you can see below, there is not a garter border around the edge of the blanket, and it has a single mitered angle. This was a decision that I made to keep the pattern very attainable for beginning knitters, and I think it preserves a very modern look to the stripes. The stockinette portions at the edges curl in a tiny bit, but the garter stitch stripes keep the blanket from really rolling at the edge. The single mitered corner forms a square, while having 'L' stripes. The only key to this is that your stitch and row gauge need to be the same (or close, since garter stitch can stretch a bit with blocking).

The projects that come from this design have really impressed me. Sharon, Rachel and Jessica (a mother/daughter/sister team) worked on this blanket from wool produced by their sheep. They passed it back and forth at each stripe, and they lined the back with some fleece fabric and quilted it using a Tied Quilting technique. I love that idea, and I really think their color choices are fun.
Sallie created a beautiful version in blue, green, yellow and white. In her notes, Sallie mentions that the worst part of the project are the ends, and I would have to agree. Typically in striping projects, at least some of the colors can be carried up the side, but with this design the stripes are really too wide for that. I tried to be disciplined and weave in the ends at the end of each pattern repeat, and that really helped. As the rows became shorter though, momentum pushed me forward, and I left the last couple of repeats with their ends hanging until the end. If you have saved your ends until the end, I recommend taking it along to knit night, and tackling them there. Somehow talking distracts me from the tedium. I'm not sure about Sally's strategy for handling the ends, but she did a beautiful job with her blanket.
Jennie made a blanket in all of my favorite colors, and then modified the pattern to add a finished edge to the two unfinished sides by picking up along the edges and knitting 5 garter ridges in one of her contrast colors. I really like the way it turned out. If you are up for picking up stitches, it adds a lovely finished edge to the blanket, and probably helps it stay in a nice square shape.
If this is a modification you want to make, pick up and knit into the edge, placing a marker at the midpoint. Your number of stitches should be about the same as the number of stitches you cast on in the beginning. Decrease at the corner, as you did for the blanket body. For the nicest finished edge (a tip I picked up from Elizabeth Zimmerman), bind off in purl on the right side.
Finally, I'd like to cover an amazing modification of the pattern. Actually, this should probably be its own pattern, because really, the Playful Stripes pattern just won't get you this blanket. Trust me, if you read through Peggy's notes, and think you could do it, then you really don't need to buy this pattern.
Peggy's granddaughter saw the Playful Stripes blanket and requested a blanket similar in color, so Peggy went to work, using the pattern as color, texture, and stripe inspiration. Her blanket is absolutely beautiful, way larger than I would have been able to finish, and it sounds like it is well loved. Isn't it amazing!
Clicking on any of the project photos above will take you to the project page on Ravelry where you can find more information about these projects. For more information about the pattern, please follow this link: Playful Stripes.
Do you have questions about this design that I didn't answer? Is there another pattern that you would like to see featured next week? Please leave a comment and I will answer your question, or adjust my plans to get your pick covered next.